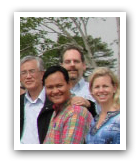 "友爱中华"简介

"友爱中华"欢迎并服务在美国学习的中国学生、学者及其家庭。点击这里,查看我们服务的校园

我们的校园同工及志愿者提供热情的接待,各种社交活动,英语对话,和各种实用的服务,好帮助在这里学习的中国学会和学者们能够成功。
"友爱中华"是一个基督教非营利组织,我们与不同的宣教机构和教会合作。因为神先将祂的爱向我们显明,我们也以神的爱去爱每一个我们所服务的人。在我们与中国学生学者建立友谊的过程中,我们也很愿意与他们分享讨论基督教信仰问题。我们也为任何有兴趣的人提供学习圣经的课程。
无论大家的宗教背景如何,我们欢迎每一个来参加我们活动的人。想要了解更多信息,请与我们联系: com@chinaoutreach.net.

About China Outreach Ministries
China Outreach Ministries (COM) welcomes and serves Chinese students and scholars in university communities across the United States. See locations here.
Our staff and volunteers offer hospitality, social activities, conversational English, and a variety of practical services to help Chinese students and scholars succeed.
COM is a Christian, nonprofit organization, and we work cooperatively with a variety of ministries and churches. We reach out with God's love because of the love he has shown to us. As we build friendships with Chinese students and scholars, we are glad to discuss questions of faith. We offer Bible studies for anyone who would like to learn more.
We welcome everyone to participate in our activities, regardless of your religious beliefs.
For more information, please contact us at: com@chinaoutreach.net.