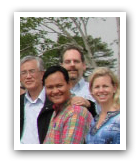 "友爱中华"简介
"友爱中华"是个基督教机构,由一些美国人、华人、加拿大人组成,为要服务在美国、加拿大学习的中国学生、学者及其家庭。我们不是一间教会,而是一个群体,和地方教会合作,舆人分享基督之爱。无论他们是否有宗教信仰,我们都欢迎中国人参与我们的活动。
我们在美国、加拿大的一些大学中,都有一些校园同工。若想知道我们所在校园名录、同工名单、以及我们在每个校园提供的服务项目和活动安排等,请看我们的"校园地点"的网页 (Campus Locations page)。有些校园同工称他们当地的校园团契为"友爱中华",有些则别的名称。无论我们用什么名称,我们的同工都因认识上帝而改变了他们的人生,都致力于服务中国人。对于感兴趣的人,我们都会提供机会,使他们可以自己探求基督信仰。如果你想了解更多的信息,请和我们当地的同工联系,或者和我们的总部联系:
About China Outreach Ministries
We are a national organization of Americans and Chinese who serve students, scholars and their families from China studying at universities in North America. We are not a church but we are a Christian group that works with local churches in sharing Christian love. We welcome everyone from China to participate whether they have religious beliefs or not.
We have both American and Chinese campus workers active at a number of American Universities. See our "Campus Locations" page for a list of campuses, workers and the services and activities we offer at each. Some campus workers call their local campus group China Outreach Ministries while others do not. Whatever name they use for their group, our workers have all had their lives transformed by knowing God and are all committed to serving Chinese people!
For those who are interested, we also want to give people opportunities to explore for themselves the Christian faith.
For more information, contact one of our workers at a particular local campus, or contact our national headquarters:
China Outreach Ministries
P.O. Box 35
Mechanicsburg, PA 17055
 1-800-269-7815
 com@chinaoutreach.net